Welcome to the 96th week of the Tips and Tricks Link Party! For the 96th week we're continuing the giveaway from last week, so don't miss your chance to enter. Also for this week, I chose
Make sure to visit the other co-hosts to see what they were doing this week and then link up your posts below.
Most Clicked
Christmas in the Master Bedroom / Debbie Dabble
Host Favorites
1.) Jessica (My Life By Jess): Peanut Butter Cheesecake Balls from A Mama's Story
2.) Krysta (Krysta Steen): Turkey Ham and Cheese Strata from Marilyn's Treats
3.) Kathleen (Fearlessly Creative Mammas): 12 Christmas Cookie Recipes from Around the World from Word Traveling
4.) Cassie (Southeast by Midwest): How to Make a Washi Tape Christmas Wreath from The Crafty Blog Stalker
5.) Gabby (Not Too Shabby Gabby): 20 Christmas Cookies Santa would Love from The Crafty Blog Stalker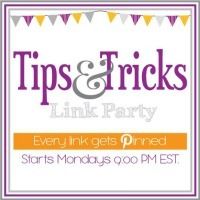 Were you Featured? Show it off! Here is a button!