Welcome to the 93rd week of the Tips and Tricks Link Party! This week I decided that I'm going to tell you what item I chose as my favorite instead of what I have planned on the blog because I can't seem to stick to a schedule! This week I chose a post on gift wrap organization by Refined Rooms. I chose this post because as stores start having their holiday sales I like to start going on ahead and picking up items and getting them prewrapped instead of waiting until right before Christmas. Due to this I like to have my paper nice and organized instead of strewn all over the house. With that in mind this post just called out to me!
Make sure to visit the other co-hosts to see what they were doing this week and then link up your posts below.
Most Clicked
Christmas in Burlington / Debbie Dabble Christmas
Host Favorites
1.) Krysta (Krysta Steen): DIY Rustic Farmhouse Tray from Redo It Yourself Inspirations
2.) Kathleen (Fearlessly Creative Mammas): Pumpkin Cupcakes with Maple Cream Cheese Frosting from Pack Mamma
3.) Gabby (Not Too Shabby Gabby): Caramel Apple Lasagna from Marilyn's Treats
4.) Cassie (Southeast by Midwest): Gift Wrap Organization from Refined Rooms
5.) Jessica (My Life By Jess): Pumpkin Cheesecake Bars from Courtney's Cookbook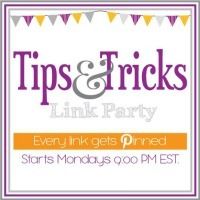 Were you Featured? Show it off! Here is a button!