It's time for another week of the Tips and Tricks Link Party! Were you part of the big storm that hit the Northeast this past weekend? We actually got some snow and ice down in South Carolina but it didn't stick for long.
Earlier today I posted a Zoya Haul so if you're a nail polish lover head over to check that out. Later this week I'll be posting up a makeup tutorial so be on the lookout for that! Until then link up down below!
Most Clicked:
Why You Should Be Cleaning Your Purse More Often
– from 1-2-3 Neat & Tidy
Favorites
1.
Chocolate Peanut Butter Granola from Not Too Shabby Gabby
/ Kathleen (a href="http://fearlesslycreativemammas.com/" target="_blank">Fearlessly Creative Mammas)
2. Baked Snickerdoodle Bites from Lou Lou Girls / Lisa (Drugstore Divas)
3. Valentine Heart Candle from Crafty Journal / Jessica (My Life by Jess)
4. Strawberry Muffins from Something Sweet / Gabby (Not Too Shabby Gabby)
5. Skinny Sweet Potato Tuna Cakes from Best of Long Island and Central Florida / Krysta (KrystaSteen.com)
6. Sweet and Slightly Spicy Pineapple Salsa from Melissa Kaylene / Heather (Frugal Mom of 8)
7. Rent the Runway Wedding Style from Smarty Pants Fashion / Cassie (Southeast by Midwest)
8. An Evening in Winter with Snow from Debbie-Dabble / Heather (Stringtown Home)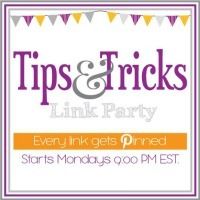 Were you Featured? Show it off! Here is a button!